Bullmastiff Santa Printed Christmas Ugly Sweater
Buy Bullmastiff Santa Printed Christmas Ugly Sweater for only 38.84, Bullmastiff Santa Printed Christmas Ugly Sweater full sizes from children to adults, Soft and breathable, warm, not easy to deform, washable. Free shipping all over the world!
● Bullmastiff Santa Printed Christmas Ugly Sweater
● Material: high quality Air Cotton.(Newly upgraded fabric for a softer, skin-friendly finish. Note: It is a short fiber polyester material, not cotton)
● Soft and breathable, warm, not easy to deform, washable
● 3D Print goes all the way around the hoodie.Advanced thermal sublimation technology, patterns will never fall off, fade.
● Reinforced cuffs and waist.
● Please Notice Actual SIZE Information In The Description Before Purchasing!
● We Have A Unique Design And You Won't Find The Exact Same Clothes Anywhere ElseMake Yourself Unique And Different From Others!
● Zippers and laces may look different from the picture, we will change the different styles periodically
●Our apparels are all Hand-Made. Hence, please allow a 5% tolerance in terms of color brightness (on-off screen) as well as sewing alignment.
US Size
Lenght

(cm)

Bust

(cm)

Shoulder

(cm)

Sleeve

(cm)

S
67
102
42
67
M
70
112
45
68
L
72
122
48
69
XL
75
132
51
70
2XL
76
142
54
71
3XL
79
152
57
71
4XL
82
162
60
72
5XL
85
172
63
73
US Size
Lenght

(Inch)

Bust

(Inch)

Shoulder

(Inch)

Sleeve

(Inch)

S
26
40
17
26
M
27
44
18
27
L
28
48
19
27
XL
29
52
29
28
2XL
30
56
21
28
3XL
31
60
22
28
4XL
32
64
24
28
5XL
33
68
25
29
Size
Lenght

(cm)

Bust

(cm)

Suggest Height

(cm)

US Size
100cm
48
83
85-95
2
110cm
50
84
95-105
3/4
120cm
52
88
105-115
5
130cm
54
91
115-125
6/7
140cm
56
94
125-135
8
150cm
58
98
135-145
10
160cm
59
100
145-155
12
165cm
67
102
150-160
13
170cm
70
112
160-165
14
Size
Lenght

(Inch)

Bust

(Inch)

Suggest Height

(Ft)

US Size
100cm
18.90
32.68
2'78''-3'11''
2
110cm
19.69
33.07
3'11''-3'44''
3/4
120cm
20.50
34.65
3'44''-3'77''
5
130cm
21.26
35.83
3'77''-4'10''
6/7
140cm
22.05
37.00
4'10''-4'42''
8
150cm
22.83
38.58
4'42''-4'75''
10
160cm
23.23
39.37
4'75''-5'08''
12
165cm
26.38
40.16
5'08''-5'24''
13
170cm
27.56
44.10
5'24''-5'41''
14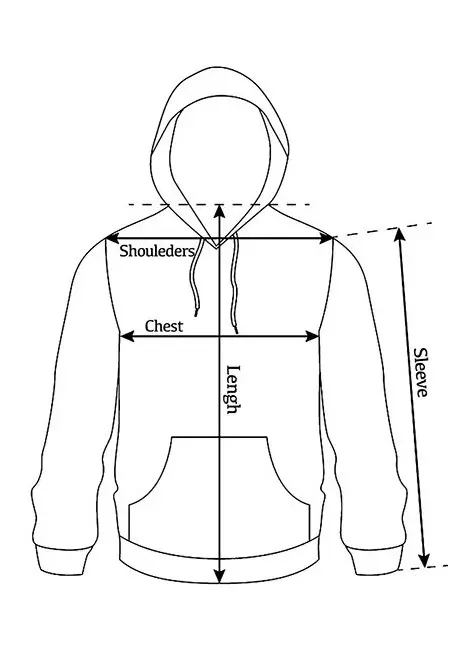 Note: All Products ordered from us can be cancelled and size changed within 24 hours free of charge, but orders cancelled or size changed after 24 hours are subject to a handling fee equalling 30% of the item price. We thank you in advance for your understanding.
Shipping and Return Information
Shipping Information: Worldwide Delivery
Free shipping worldwide.
Receiving time = Shipping time + Processing time
Processing time:
It usually takes 2-9 business days for your order to be processed.
Shipping time:
The actual shipping time to destination countries is based on the shipping method in your order.
USA, UK, Australia, Canada, Germany, France, Ireland orders:
Express Shipping: 3 - 7 days, $29.99
Standard Shipping: 5 - 10 days, $18.99
Economy Shipping: 7 - 12 days. Free shipping Now
Other Countries:
Please add 1 - 7 days to the estimated shipping time.
About the shipping fee:
Please refer to the website for the latest shipping fee updates. Additionally, it's important to note that public holidays, destination countries, and couriers can impact the shipping time.
Special Consideration for Size and Weight:
We want to inform you that for certain larger and heavier sizes, there might be slight price variations in the shipping fee due to increased shipping costs. Rest assured, we strive to provide you with transparent and fair pricing for all sizes. If you have any questions or concerns about shipping costs for specific sizes, please don't hesitate to contact our team at sales@animeoutletshop.com.
Return & Exchanges Policy: 30 Days Easy Return/Exchange
We maintain a high quality control standard to ensure that all products we ship are in perfect condition. If you are not 100% satisfied with the items you receive, we are more than happy to accept returns and exchanges within 30 days of receipt. Please ensure that the items are in new condition. Please note that overdue requests may not be accepted.
Am I Allowed to Return or Exchange the Order?
You can return or exchange items within 30 days of receipt for most items in new condition within 30 days of delivery.
Our return policy is backed by a 100% money-back guarantee.
Personalized Customization to Showcase Your Unique Style
By visiting our website https://animeoutletshop.com/price-difference.html, you can customize the products on this page to your preferred style: hoodies, zip-up hoodies, sweatshirts, or T-shirts. We support a variety of clothing types, and all you need to do is purchase the clothing and use https://animeoutletshop.com/price-difference.html to select and pay the price difference to change your purchased clothing to the chosen style.
Furthermore, we recommend exploring our Custom Design page: You can directly customize hoodies, zip-up hoodies, sweatshirts, and T-shirts with unique designs by uploading images on our website. Just upload your image, and then email us to confirm further details. We'll work closely with you to transform your design ideas into reality.
At Animeoutletshop, we're committed to creating a one-of-a-kind wearing experience for you. Whether it's during leisure time or special occasions, you can confidently express your style. We look forward to providing you with the perfect clothing choices that radiate confidence and individuality.
Throughout your clothing journey, Animeoutletshop will always be with you. If you have any questions about clothing choices, customization, or purchases, please feel free to contact our team. We're here to offer professional advice and assistance, ensuring your shopping experience is enjoyable and worry-free.
Thank you for choosing to be a part of Animeoutletshop. Together, let's create your unique style!
Material Guide: Premium Air Cotton Hoodies & Ice Silk T-Shirts
---
When choosing the perfect attire, it's not just about the design but also the fabric that defines comfort. To ensure you experience unparalleled comfort across seasons, we present our high-quality Air Cotton hoodies and Ice Silk T-shirts.
1. Air Cotton Hoodies Material Features:
Upgraded Fabric: Our Air Cotton has been enhanced to provide a softer touch, ensuring a skin-friendly finish for a more comfortable wearing experience.
Material Clarification: It's essential to note that Air Cotton is a short fiber polyester material, not actual cotton.
280g/Air Cotton: We've opted for the more luxurious 280g/Air Cotton in the market. This means each square meter of the fabric weighs 280g, offering a denser and more premium feel compared to the commonly used 180g, 200g, and 220g fabrics.
Fleece Styles:

Thin Fleece: Compared to Air Cotton, our thin fleece variant is softer with a finer fluff, ideal for spring and fall seasons.

Thick Fleece: Designed for winter, this variant provides excellent warmth, ensuring you stay cozy in colder climates.
2. Ice Silk T-Shirts Material Features:
Breathability: Ice Silk offers exceptional breathability, rapidly dissipating body heat, ensuring you stay cool during hot weather.
Moisture-Wicking: Ice Silk quickly absorbs and evaporates sweat from the skin's surface, keeping you dry and comfortable.
Soft & Comfortable: The fabric feels silky smooth against the skin, offering a luxurious touch.
UV Protection: Our Ice Silk T-shirts also provide a degree of UV protection, shielding your skin from potential sun damage.